Welcome to Michigan Confidential Document Destruction
Michigan Confidential Document Destruction began in 1999. At that time, I was the owner of a collection and credit reporting agency in Alpena, Michigan Credit Services. Throughout my many years in that industry, I witnessed firsthand the growing threat of identity theft among clients, friends, debtors and area businesses. MCDD came to fruition because there was a huge need for a licensed third-party document destruction company in our great Northern Michigan. Back then, none of the multi-national corporate destruction companies serviced our area. MCDD immediately gained membership with the National Association for Information Destroyers (NAID) and has remained a member in good standing since that time.
As MCDD grew and prospered, I endeavored to give back to the community that had done so much to aid my professional growth. I regularly volunteered my time as a credit reporting owner, serving as President of the Michigan Association of Collection Agencies (MACA) and serving as a Board Member for the Associated Credit Bureaus (ACB) of Michigan. I was and am determined to continue a broad-based program of community outreach and philanthropy with MCDD. To that end the following organizations, and many others not mentioned, all benefit from MCDD support:
MidMichigan Cancer Center – donor and event sponsor
Alpena Community College – annual scholarship golf sponsor
Thunder Bay Community Health Services – Kids Day sponsor
Long Lake Lights Festival – event sponsor
Boy Scouts of America – annual sponsor activities and events
Alpena High School – Girls Golf Team Sponsor
Alpena Area Robotics – annual sponsor
Blue Ox Chapter Credit Unions – annual sponsor
Alpena Area Chamber of Commerce – member and sponsor of Free Shred Days and Golf sponsor
Additionally, I volunteer my time on many boards and community forums throughout Northern Michigan, including:
Current Chairman, Supervisory Committee, Alpena Alcona Area Credit Unions
Current Member, MidMichigan Medical Center Alpena Advisory Council
Current Member, MidMichigan Medical Center Alpena Business Relations Committee
Past Board Member, Boys and Girls Club of Alpena
Past Member, Alpena Rotary Club
Past President, Alpena Exchange Club
I strongly believe that the success of any regional organization is due in large measure to the community in which that organization and its owners and employees live and work. To that end, I have devoted my personal and professional time and resources. I have also made it a priority to support other organizations within my community whenever possible. To that end, MCDD utilizes equipment that is sourced and manufactured locally. We are also the only document destruction company that disposes of our collected materials locally, without shipping them to facilities in other parts of the state or out of state entirely for destruction. MCDD recycles 100% of all collected materials. Finally, because we prioritize the community first, I know that I am doing all I can by employing from our local community, watching the financial resources of MCDD going back to that community in the form of supporting our local tax base, benefitting our local and regional economies and sharing directly in the growth and preservation of our beautiful Northern Michigan resources for future generations.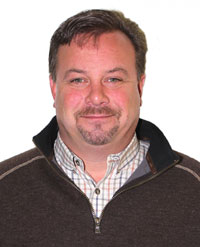 Thank you for considering Michigan Confidential Document Destruction!
Byron Parr